There's this cliche saying that if you love what you do you'll never work a day of your life. Well that has partial truth to it. I am excited to go to work. I love being there. I get paid to be a catering supervisor which holds a lot of responsibility. It doesn't come without it's challenges but most of the challenges are good for self development.
One of the things they pay me to do is arrange the flowers for our events. So they pay me to do one of my hobbies? Pfff. Who's the fool? ;)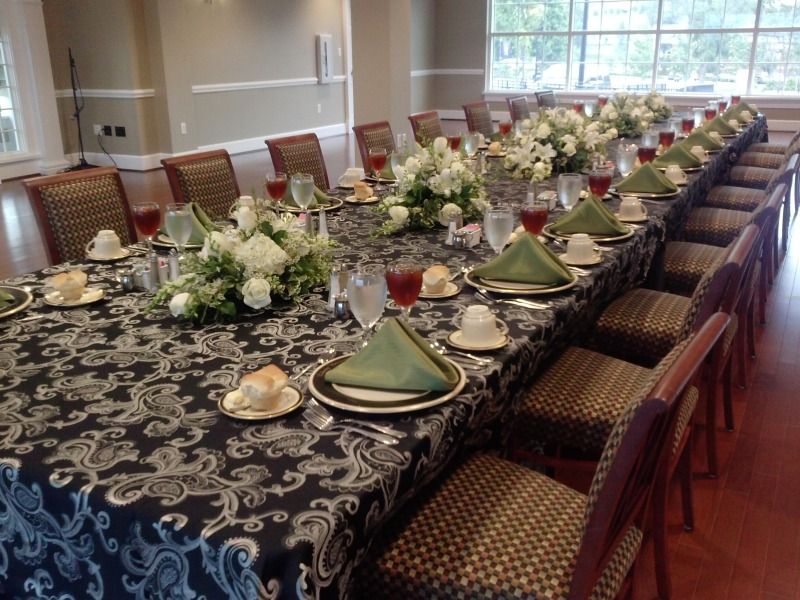 Most of the events I do are for V.I.P. people. I meet a lot of politicians, some celebrities, mostly famous Christian leaders. Sometimes I don't realize I am serving them until I get right up on them. I am never star-struck. I always just feel like they are just like you and me. Now if I served Joyce Meyer, I may have a case of the butterflies. Joyce Meyer is like my spiritual mother. I have more material and books from her than any other. I have a Joyce Meyer library. It would be awesome to serve her one day. Maybe I will. :)
Not all events I do are V.I.P. four course dining. Here's a hawaiian bbq on the lake. I'm sorry, you pay me to do this??? Yeah like I said. Who's the fool?
Sometimes everything seems to go wrong on an event and my butt is under the microscope. That's difficult but I do everything in my power to do a good job and it shows. I do have lots of fun on my job and I am ever so grateful for it.
Here I am with some of my employees goofin' around. My staff members work hard for me and I appreciate them. I try to treat them very respectfully and lead them by example. Most of the times it works as long as they have a teachable spirit. If not discipline comes which is not easy.
In the summertime the chaos of events slows down from about 20 events a week to about 3-5. The good thing is I have first pick of hours because I am a supervisor. So I am guaranteed events first. Thank goodness. God has provided above and beyond what I wanted. Praise Him!!